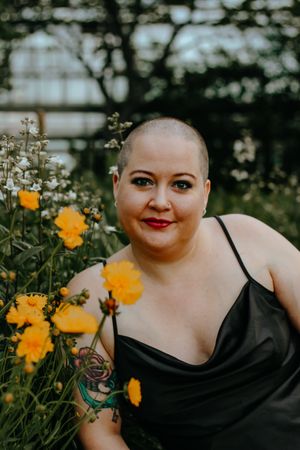 Singer. Cut her teeth on the Great American Songbook and opera. Joined a rock band after college, did some musical theatre. Archetypes include: the ingenue, the high priestess, the sad clown, the femme fatale, the scrappy fighter, the madwoman, & the chanteuse.
Songwriter. Always poignant, rarely truthful. Playing with sounds and words like Lego and mud pies. Doesn't mean to make you cry, but it will probably happen anyway. Draws from Americana, jazz & cabaret, bedroom pop, art song, Laurel Canyon, classical crossover, etc. (On Spotify and Bandcamp)
Writer. Prose, poetry, flash fiction, songs for other people, epigrams, aphorisms, blogs. Check out The Tellegraph and TheVillainess.co. #WIP story about fairyland and a daring heist to rescue a stolen child. 
Siren. Sex & body positivity. Androgynous glamour. Self-love & celebration. NSFW (@whiskey.dumpling)  
Actor / Voice Actor. Stole hearts as Fanny Brice (Funny Girl) and Tobias Ragg (Sweeney Todd). Life goal: to voice a Disney villain. Poetry reading TikTok - @chanconsings 
Aesthete: acoustics, ancient history, astronomy, audio engineering, billiards, bookstores, boxing, burlesque, Classic Hollywood, classic literature/mysteries, composition, conducting, cooking/baking, cottagecore, cross stitch, dark academia, doodle painting, fairy tales, fireflies, folklore, French Revolution, gardening, ghost stories, golf, knitting, languages, Lego, linguistics, manga, murder ballads, mythology, neuroscience, old buildings, prairie gothic, reading, Snickelways, softball, speakeasies, steampunk, summer nights, tarot, tea in the conservatory, travel
Human: BLM. Trans rights are human rights. Pro-choice. Feminist. ACAB. De-fund the military.